1.20 What is Ethereum and how does it work?
This lesson helps you decode Ethereum thoroughly.


The internet brought a massive change to our everyday life. Now, we cannot even imagine a part of our day without it. It has changed the way we communicate and conduct operations. However, one fundamental flaw in the foundation of the internet is that it does not provide a trustless infrastructure. The entire structure is centralized and needs intermediaries to operate.
Blockchain technology, the next frontier in the technological revolution, enables a trustless infrastructure by design. Bitcoin, the first real application of blockchain, gave a sneak peek of what happens when a segment of the financial system is established on the blockchain. Ethereum brought this innovation further into the light.
The remarkable innovation of Ethereum is not just about currency but also about building decentralized applications through its platform. It is a network of computers working together to replace the centralized model of companies that run the internet today. In the last few lessons, we studied the fundamentals of blockchain and mining. In this lesson, we look at how Ethereum showed the true potential of blockchain technology.
This lesson helps you decode Ethereum thoroughly.
Contents
What is Ethereum?
What is Ether and Gas?
How does Ethereum work?
What is Ethereum?
Ethereum is an open software platform that uses blockchain technology to build decentralized applications (dApps).
After a few years of Bitcoin, a young programmer and co-founder of Bitcoin Magazine, Vitalik Buterin, envisioned taking the idea of blockchain further and applying it to any type of application. In 2013, Buterin proposed Ethereum in a blog post titled "Ethereum: The Ultimate Smart Contract and Decentralized Application Platform." Buterin, along with other co-founders, developed Ethereum in the next couple of years.
Ethereum is referred to as the second-generation blockchain - an upgrade to the first-generation blockchain, i.e., Bitcoin. The main purpose of Ethereum is to advance the use case of blockchain and is not limited to peer-to-peer payments.
What is Ether and Gas?
Many people use the terms Ether and Ethereum interchangeably. However, there is a clear difference. Ether is the Ethereum blockchain's native cryptocurrency. It works similar to Bitcoin as a form of payment or store of value.
If Bitcoin is digital gold, Ether can be described as digital oil. It acts as a fuel to run the Ethereum network. Ether incentivizes people to host and maintain the data on the Ethereum network.
If developers want to build a software application (dApp) on the Ethereum network, they need to pay for the computing power and space using Ether. But, how to determine the amount of Ether required for building a particular application? Using a built-in pricing system called Gas.
Gas fee = Bandwidth + space + computational difficulty of a transaction
The term gas differentiates the cost of performing a transaction from Ether's value. Gas fee is measured by the unit GWEI. Wei is the smallest denomination of Ether. Just like how a penny is to the US dollar, gwei is to the Ether.
How does Ethereum work?
Let's break down the Ethereum network into three layers to understand how it works.
Base layer (Hardware Layer)
The base layer consists of a vast network of computers or nodes connected to one another. It is where the miners validate, broadcast, and store the transactional data. Similar to Bitcoin, miners receive Ether rewards for performing computational work to validate the transactions. The amount of Ether rewards depends on the Gas price system we discussed before.
Smart contracts (Software layer)
The codes transmit the data and trigger actions in the next layer of the Ethereum network. Imagine a second layer called the software layer on top of the base layer. Developers can write codes called smart contracts using programming languages like Solidity.
Smart contracts are self-executing programs. That means the code runs itself when a set of pre-defined conditions are met.
For instance, let's say that you and your friend engage in a bet of $50 for weather conditions. You predict that it will be rainy tomorrow and your friend says that the weather will be sunny. Both of you input conditions in a smart contract, and deposit $50 from your respective wallets. The smart contract, using oracle technology, monitors the weather and automatically transfers your friend's $50 into your wallet if the weather is rainy (and vice versa).
Smart contracts trigger automated actions such as transactions without manual input. The combination of the base hardware layer and the software layer creates a global decentralized supercomputer called Ethereum Virtual Machine (EVM). EVM helps in bringing the software flexibility to build multiple decentralized applications separately on the network.
dApps (Application Layer)
That brings the final layer of the Ethereum network. The final layer is the application layer that helps developers build and launch their decentralized applications. Several dApps in multiple sectors, including real estate, gaming, exchanges, identity, health, finance, banking, and more, can be created on the Ethereum network.
Ethereum network also uses a proof-of-work consensus mechanism to mine Ether coins similar to Bitcoin. The core issues with the Ethereum blockchain are scalability and high gas fees. The current system can handle only 7-15 transactions per second. This causes network congestion and demands high gas fees considering the numerous applications built on the network.
Ethereum 2.0 addresses these issues by moving Ethereum's proof-of-work consensus mechanism to a proof-of-stake mechanism. Ethereum 2.0 will be launched in multiple phases, with the final upgrade likely to happen by the end of 2022.
That is all about the second-generation blockchain, Ethereum. We hope you get a better understanding of Ethereum and its function with the help of this article.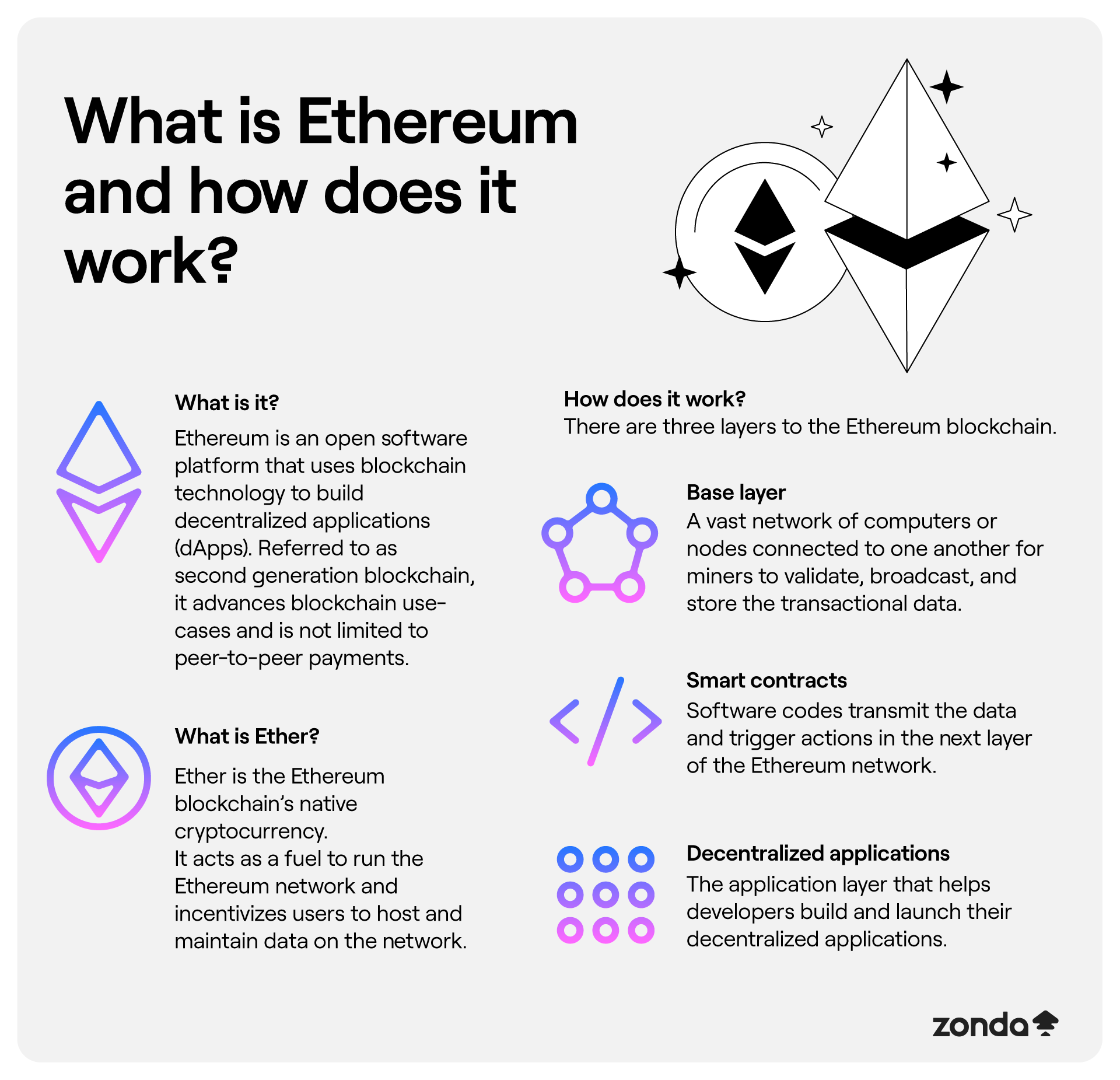 ES
This material does not constitute investment advice, nor is it an offer or solicitation to purchase any cryptocurrency assets.
This material is for general informational and educational purposes only and, to that extent, makes no warranty as to, nor should it be construed as such, regarding the reliability, accuracy, completeness or correctness of the materials or opinions contained herein.
Certain statements in this educational material may relate to future expectations that are based on our current views and assumptions and involve uncertainties that could cause actual results, performance or events to differ from those statements.
BB Trade Estonia OU and its representatives and those working directly or indirectly with BB Trade Estonia OU do not accept any liability arising from this article.
Please note that investing in cryptocurrency assets carries risks in addition to the opportunities described above.
Zonda is now zondacrypto!
As the exchange continues to evolve and grow, we're thrilled to announce that we're rebranding and changing our name to better reflect our vision and values. We're still the same team you know and trust, but with a fresh new name that captures our spirit of innovation and customer-centric approach.
Some things may look a bit different but don't worry - all operations remain the same and your login details work as usual.
Stay tuned for more updates and exciting changes as we embark on this new chapter together. Thank you for your continued support and loyalty!