1.16 Blockchain use cases
This lesson discusses prominent use cases of blockchain technology.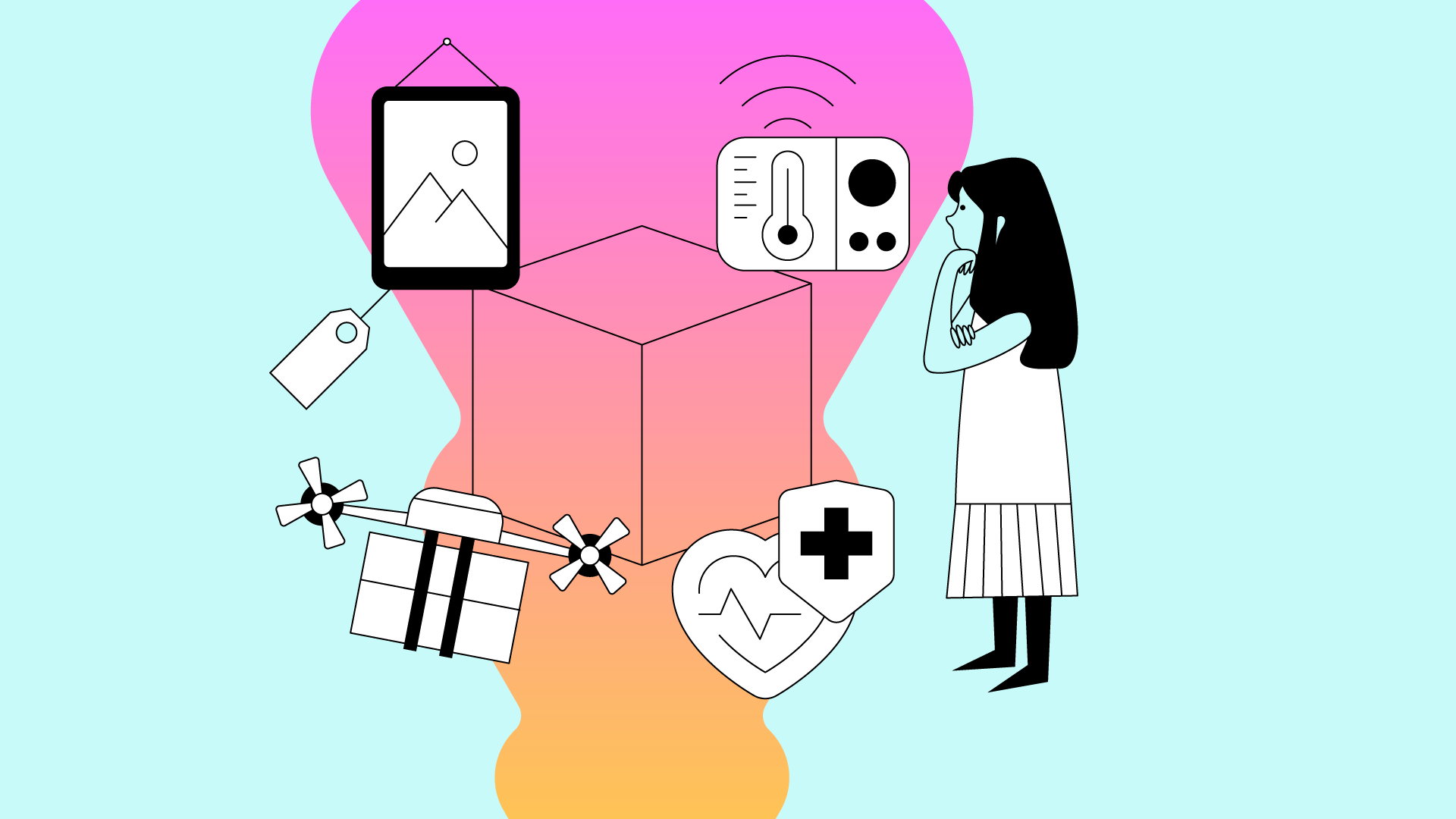 In our previous lesson, we discussed the fundamentals of blockchain technology and how it works. Now, we take a step further by understanding how these fundamentals apply to real use-cases.
Though Bitcoin is the first well-known application of blockchain, the technology's use-cases are far beyond digital currencies. Apart from the financial industry, sectors like healthcare, real estate, music industry, gaming, Fintech, cybersecurity, the Internet of Things (IoT), logistics, supply chain, sports, digital media, etc., are likely to be impacted by the disruptive solutions of blockchain technology.
This lesson discusses prominent use cases of blockchain technology.
Contents
Decentralized Finance (DeFi)
Logistics & supply chain
Healthcare
Non-Fungible Tokens (NFTs)
Internet of Things (IoT)



Decentralized Finance (DeFi)
Satoshi Nakamoto dreamed of a future where we don't need to depend on financial institutions to make transactions when he created Bitcoin with the help of blockchain. DeFi is this idea converted into a reality.
Decentralized Finance (DeFi) is a blockchain-based alternative financial system. DeFi facilitates the performance of financial activities without any third-party institutions like banks and brokerages.
Let us take a basic example of how DeFi facilitates alternatives in the financial ecosystem. Leveraging blockchain, DeFi enables transparent and secure borderless payments from one person to another without delay and with nominal transaction fees.
DeFi is a growing ecosystem encompassing several applications. It offers a solution for the unbanked by giving them access to financial services such as lending and borrowing. Moreover, these financial services can be accessible with just a smartphone and internet connection. Currently, one of the biggest hurdles with banking the unbanked is identity validation. Blockchain helps record user data, input their biometric data, and provide financial services to them.
In addition, financial activities such as asset management, fundraising, governance, etc. can be performed on a decentralized infrastructure without third-party intermediaries proposing a new way to engage with assets, making faster and more secure transactions, and reducing costs.
Logistics & supply chain
Supply chain is a billion-dollar industry. While it has significantly expanded, the logistics and supply chain management industry has become quite complex. The industry faces shortcomings such as counterfeit products, data credibility, lack of transparency, paperwork, and absence of product traceability. Blockchain helps tackle the current limitations of the supply chain industry.
Blockchain tracks and records data on a distributed ledger. For instance, a food product's cycle, from raw materials to its delivery, can be tracked on the blockchain. Let's say that you want to buy organic vegetables. With our current infrastructure, all you can do is trust the seller that a product is organic. Now, with blockchain, you can verify the authenticity of the product by tracking its entire life cycle. This enables the end-consumer to verify the credibility of the product and ensure its authenticity.
In addition, stakeholders of the supply chain network can view the data in real-time. Real-time tracking and transparency provide accountability and efficiency to supply chain operations.
Healthcare
Often in the news, we see incidents of how patients or client's data is breached. What if someone, at this moment, is accessing your private health data of what diseases you suffered in the past or even how many steps you walked today through your wearable device? All this without you knowing about it. The blockchain ledger can be useful in preventing data breaches and provide more accountability to patients' data. Your data can only be accessed by anyone with your permission. Moreover, your data now has a value as you can "get paid" each time someone accesses your health data, for example for clinical trials.
Let's consider another situation everyone of us has faced at some point in our lives. How many documents and reports have you had to (re)create because you have lost one or because you went to a separate doctor or pathology?
The industry's fragmented pieces, including doctors, insurance companies, hospitals, clinical labs, and even wearable devices, can be interlinked into one ecosystem. Leveraging blockchain secures a patient's identity and facilitates easy data exchange between the multiple verticals of healthcare.
Non-Fungible Tokens (NFTs)
NFTs have become one of the most popular applications of blockchain technology.
NFTs or non-fungible (irreplaceable) tokens are unique and rare digital collectibles. Digital files like images, Gifs, videos, audio files, and even real-world assets like artworks and jewelry can be converted into NFTs on the blockchain.
You can buy or sell these collectibles to make profit. Blockchain allows you to have digital proof of ownership of digital items. Blockchain technology records and stores NFTs ensuring the uniqueness of the asset.
Internet of Things (IoT)
We are living in an era where our fridge alerts us if we are out of milk and our heating systems are automatically turned on when you are approaching your home. IoT interconnects people, places, and products. While the whole set up has made our lives extremely convenient, the issue of security remains unaddressed. Unauthorized access of devices in smart home appliances and compromised business data are challenges that are present in the IoT sector today. This is where blockchain comes in.
Blockchain stores data in a distributed manner on multiple devices eliminating the central point of failure. The data from IoT devices stored on blockchain is less susceptible to vulnerabilities. It reduces costs, increases transparency, and allows fast processing of data transactions between billions of connected devices in IoT in a secure manner. This makes IoT devices such as smart locks or car sensors more secure towards breaches.
The technology's impact on digital currencies is a sneak peek of what it has to offer. Experts believe that in the near future it may influence our day-to-day life similar to the internet.
FR
This material does not constitute investment advice, nor is it an offer or solicitation to purchase any cryptocurrency assets.
This material is for general informational and educational purposes only and, to that extent, makes no warranty as to, nor should it be construed as such, regarding the reliability, accuracy, completeness or correctness of the materials or opinions contained herein.
Certain statements in this educational material may relate to future expectations that are based on our current views and assumptions and involve uncertainties that could cause actual results, performance or events to differ from those statements.
BB Trade Estonia OU and its representatives and those working directly or indirectly with BB Trade Estonia OU do not accept any liability arising from this article.
Please note that investing in cryptocurrency assets carries risks in addition to the opportunities described above.
Zonda is now zondacrypto!
As the exchange continues to evolve and grow, we're thrilled to announce that we're rebranding and changing our name to better reflect our vision and values. We're still the same team you know and trust, but with a fresh new name that captures our spirit of innovation and customer-centric approach.
Some things may look a bit different but don't worry - all operations remain the same and your login details work as usual.
Stay tuned for more updates and exciting changes as we embark on this new chapter together. Thank you for your continued support and loyalty!